Mort Meisner has had a full life.
So when it came time to write his memoir, determining what would make the cut was a feat. To say the least.
Right now, the baseball season is in full swing. (Whatever "full swing" means in this era of the coronavirus.) And it has recently left Mort nostalgic for this beloved sport.
Yet, in his memoir, Enough to Be Dangerous, there isn't much about his favorite American pastime. How come?
Did Baseball Strike out?
Not exactly.
Baseball was actually a huge part of Mort's life. He played the game himself and was, in his words, "pretty darn good at it." He still recalls his first Tigers game in 1960 when the Tigers played the Yankees. It was a bright sunny day with an impossibly blue sky that contrasted the emerald green of the field. The smell of hot dogs and sound of the ball cracking against the bat was intoxicating.
Over ten years later in 1971, 1972, and 1973, he was a vendor at Tiger Stadium. He had to wear a wig to cover up his long hair, but it was worth it for the money he earned and, more importantly, the women he met.
He kept lucky peach pits he'd hold during Tigers games and rallies. That might sound a little odd, but true sports fans are susceptible to unusual superstitions. And as fans go, Mort was the real deal.
Being so passionate about broadcasting, he obviously remembers the first time he heard Ernie Harwell and how from the first day he met him, Ernie always remembered Mort's name.
And it is Mort's passion for broadcasting that took precedence to baseball in his memoir.
It Was a Difficult Decision
As we mentioned above, Mort has had a rather large and illustrious life. So it would have been impossible to include every story in his vast menagerie of tales without overwhelming readers.
Thus, when pulling together information for Enough to Be Dangerous, it was necessary to stick with the essentials – which broke down to his life in broadcasting, as a rock and roll promoter, as a talent agent, and his family.
Baseball is not completely MIA, though. In fact, it is in the chapters that speak of his family – both of origin and the family he created – that baseball and softball make cameo appearances.
Bonding with His Son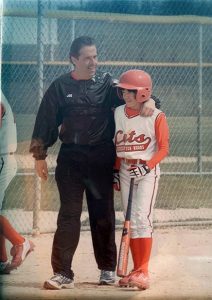 For example, he discusses a period of time after he was let go from a job and suddenly had time on his hands.
As the kids continued to grow, I loved being a father. I now had time to coach Mark's baseball team, which only further strengthened the bond I already had with my son. I would throw him batting practice 46 weeks per year.
I watched him blossom into a great player and he eventually was able to realize his dream of playing Division One Baseball. He's now a Major League Baseball agent.
So while exiting stage left from broadcasting was difficult, it was certainly a mixed blessing in that it enabled him to foster the same love of the sport in his son.
Saying Goodbye
On a more melancholy occasion, there was a night when Mort went to visit his mother in the nursing home where she spent her final days. By then she had disconnected from the world and when Mort went in to say hello, she merely turned over in her bed and turned her back to him.
The next morning, I was playing softball when I received the call that she was gone. Oddly, I felt the need to I return to the field to finish the game.
It was a dark and overcast day. But when I ran out to left field, the sun briefly came out. It still sends goosebumps down my spine when I think about it.
So even though baseball is largely absent from the memoir, it was certainly woven into the fabric of his life. And right now, while he's missing those hot afternoons and balmy evenings at Comerica Park, he's happy coaching his grandson Tony's Little League team.
And he's looking forward to the days when he can take his grandsons "out to the ballgame."
They'll be here soon enough.
So What's in the Memoir?
You'll just have to read it to find out.
Fortunately, you can pre-order your autographed copy of Enough to Be Dangerous by clicking here – due out on October 1st from Two Sisters Writing and Publishing.
We promise you it's a home run of a read.
And subscribe to our blog to stay up to date on all the events around the launch of the book.