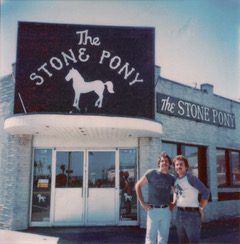 Many of us remember the first time we saw a musical act that transformed us. For Mort Meisner, it was Bruce Springsteen.
In fact, Mort would hold the record in Michigan for attending the most Springsteen concerts, were it not for 97.1 The Ticket radio personality Mike Stone. Stone is such a diehard fan that it's written in his contract that he gets time off to see Bruce when he's in town, as well as when he's on tour to go see him out of town.
Of course, it's not a competition. They both share a fierce passion for both Bruce's music, and for the musician. And this is no more apparent than in Mort's new memoir, Enough to Be Dangerous, where he committed not just one, but two chapters to Bruce Springsteen.
He even goes so far as to call him his hero.
You Never Forget Your First Time
Mort had never heard of Bruce Springsteen that fateful night he went to see him in September of 1975:
I was 22, but felt like a young teenager—sitting there, front and center, waiting for this Bruce Springsteen guy to come out on stage. I had no idea what to expect. And before I knew it, there he was, playing Incident on 57th Street. He went through his array of songs—none of which I'd heard—including Born to Run.
Hearing them that night changed my life.
It was a transcendental experience for him.
Working as a rock and roll promoter at the time, he knew immediately it was essential that he book Bruce at the Michigan Palace. So he went to talk to Bruce's manager and booked him two weeks later.
And so began Mort's journey toward becoming a Bruce Springsteen groupie.
Following the Boss
Mort's friend Nelson was equally as swept up by Bruce Springsteen as Mort was, and they were soon traveling to see him perform.
On one occasion, they went to Asbury Park, New Jersey, in hopes of catching Bruce slumming at the famous Stone Pony. After a visit to sax man extraordinaire Clarence Clemons' home, and several more attempts at the Stone Pony, they finally scored.
Bruce treated them like royalty. He was genuinely interested in them and curious about why they'd come all that way. Then he proceeded to play there for an hour and a half in what was almost a private concert.
Listening to him perform, I felt profoundly different. I can't really explain it. I thought, this guy is like Bob Dylan. But different. More upbeat. More spiritual, maybe?
The way I interpreted his songs resonated with something deep inside me. He ran sentences and words together which I didn't understand, but I had no need to understand. He got me.
It became another life-changing night for Mort.
Still Loving Bruce Springsteen
Throughout Enough to Be Dangerous, Mort recounts a childhood riddled with violence and abuse. He lived his young adult years hard and fast, eventually succumbing to drug use in an attempt to outrun the demons that haunted him. But there was always one thing he knew could bring him back to center.
Over the years, from then until now, I've seen Bruce Springsteen 131 times. It seems that in my tormented life—as it's often been—he's always been there as a salve or balm to bring me relief.
Even when I had tragedies and losses in my family, I always took solace in listening to Bruce.
His abiding faith in Bruce Springsteen remains to this day.
What Makes Bruce Springsteen Mort's Hero?
You'll have to read Enough to Be Dangerous to get the answer to that question. Don't worry.
Just click here to pre-order your autographed copy of this action-packed yet emotional memoir – due out on October 1st from Two Sisters Writing and Publishing.
And be sure to subscribe to our blog to stay up to date on all the latest around the release, launch party, and other exciting events.